Welcome to the Junior Tritons.
St. Petersburg's largest recreational youth basketball league.
Since 1987, our organization has been dedicated to providing the opportunity for boys and girls from the ages of 6 to 16 to learn the game, develop their skills and compete with other children of similar skill level.
More than 30 years later, we're still committed to introducing as many kids as possible into the incredible game of basketball.
– BREAKING NEWS –
online registration for regular season opens on monday, 10/14/2019. check the important dates below
IMPORTANT DATES
October 14th - Online Registration Begins
October 22nd - In-Person Registration Begins (Tuesdays/Thursdays at Roberts 6-8pm)
November 5th - Last Day to Register Online and In-Person
November 7th to 9th - Tryouts
November 11th - Coaches Meeting / Team Assignments (6:30pm @ Roberts) - only for Coaches
December 9th - Regular Season Begins
February 8th - Regular Season Ends
February 10th to 29th - League Tournament
11/16/19 to 02/08/20 - Division AA Regular Season
TRYOUTS SCHEDULE
Tryouts will be held at Roberts Rec Center november 7TH to 9th, 2019
Division 1 - TH 11/07 - 6pm / SA 11/09 - 10am
Division 2 - FR 11/08 - 6pm / SA 11/09 - 11am
Division 3 - TH 11/07 - 7:30pm / SA 11/09 - 12pm
Division 4 - FR 11/08 - 7:30pm / SA 11/09 - 1pm
*All players MUST attend at least one tryout
Division AA - No tryouts needed | Practice begins 11/16 (every Wednesday at 6pm and Saturdays 9am at Willis S. Johns Recreation Center)
What are we all about?
teaching fundamental basketball skills • treating all participants fairly and equally • encouraging good sportsmanship • having fun
Any child or parent whose goals are the same are welcome to join our league. We are not a league that showcases the talent of a few, while others spend most of their time sitting on the bench.
Please note: We do not allow established travel teams (AAU, Super-6, etc.) in our league.
Players are assigned to a team based upon their skill level. Our league directors strive to create teams that are as equally matched as possible.
WHICH DIVISION is for you
Players are assigned to a division based upon their age as of August 31st of the current calendar year.
AA: 6 - 7 years old • D1: 8 - 9 years old
D2: 10 - 11 years old • D3: 12 - 13 years old
D4: 14 - 16 years old
We are an instructional league, so we have a strict set of rules which includes playing time. Each of our coaches have agreed to follow these rules while coaching in our league.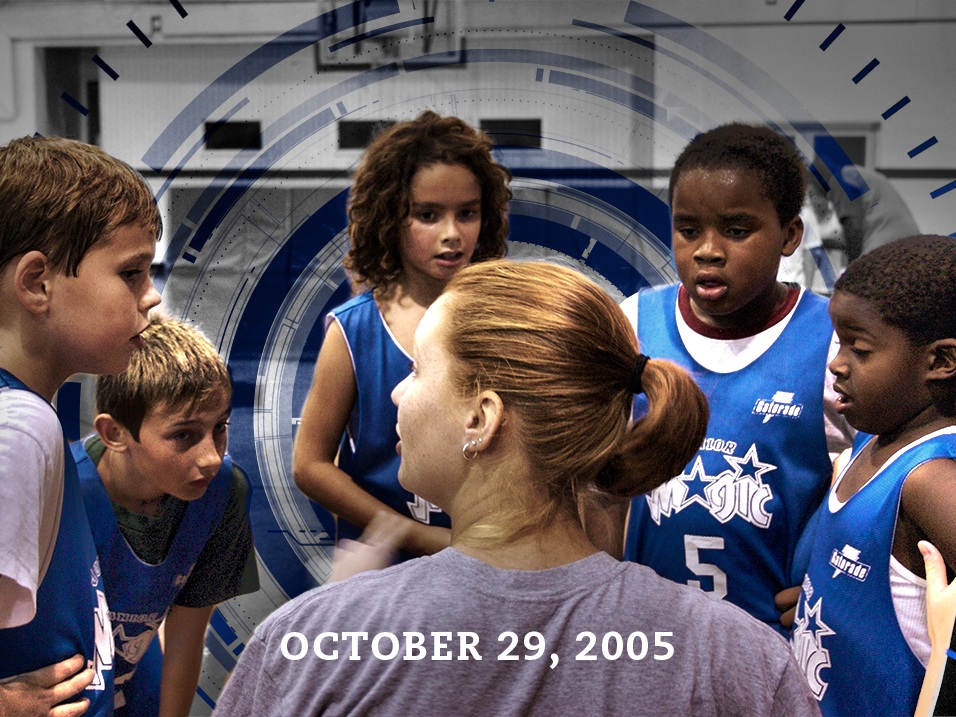 In 1987, a small group of basketball parents founded the North St. Pete Youth Basketball league. A few years later with a little help from a certain NBA team, we became known as the Junior Magic.
Then, in 2011 we adopted the mascot of a college basketball team dedicated to improving the lives of their student-athletes and the entire St. Petersburg community – the Eckerd College Tritons.
Did You Know?
Less than 3% of high school basketball players receive college scholarships? Learn how you can start saving for your son or daughter's future now.